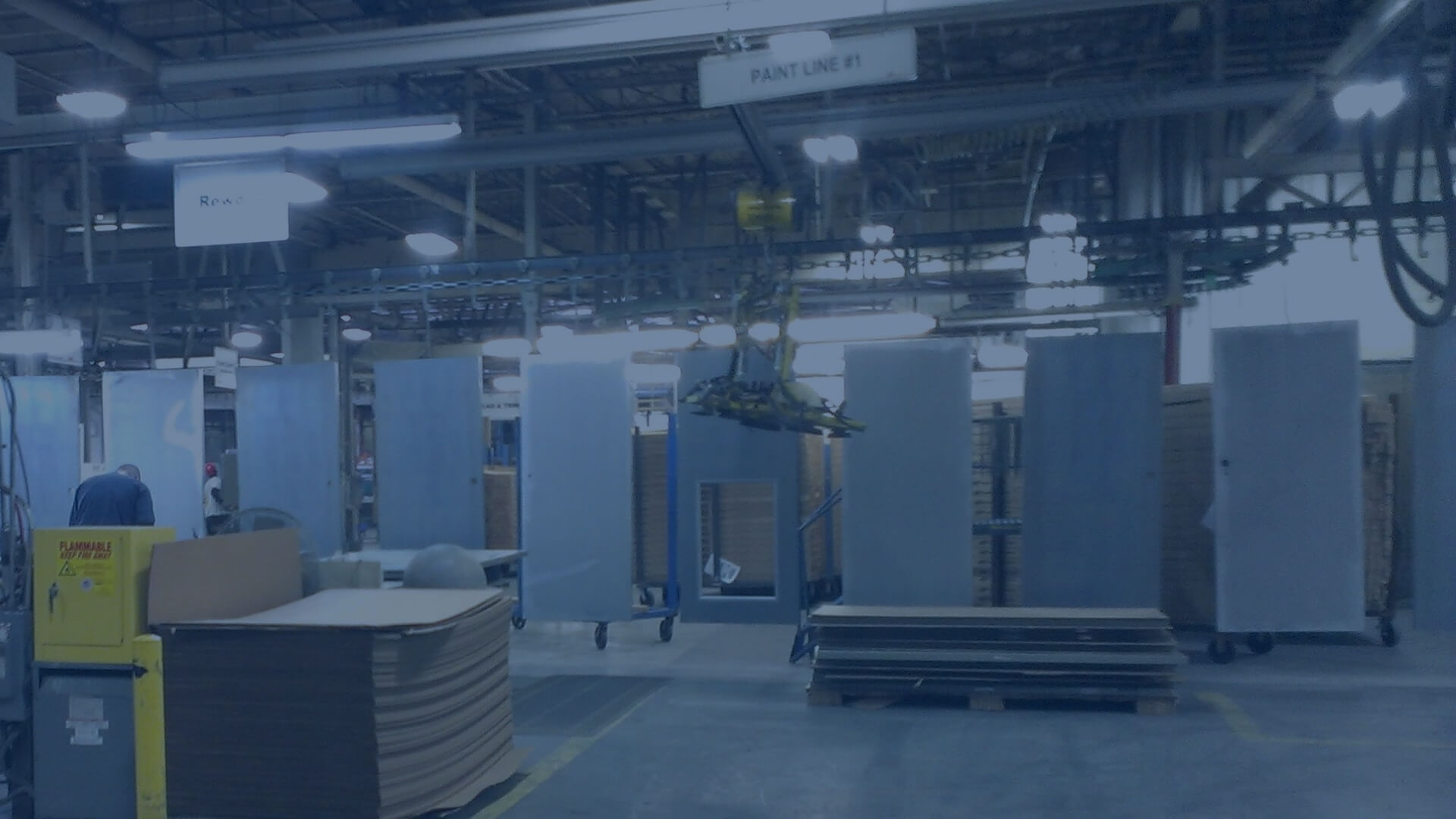 Hurricane doors and frames are assembly approved with Allegion hardware to resist Hurricane pressures and impacts. Uniquely engineered designs combined with the durability of superior corrosive resistant steel make Steelcraft Hurricane products an excellent solution for added building protection from severe weather.
Hurricane Assemblies are extensively tested in various product configurations to comply with key certification agencies for listing approved door assemblies for resistance to hurricane forces:
Florida Building Code (FBC)
Miami-Dade (MD)
Texas Department of Insurance (TDI) listing requirements for resistance to hurricane forces
FEATURES AND BENEFITS

Strength, durability and ease of installation
A60 Galvannealled steel for superior strength and resistance to corrosion
Standard 3/8" undercut to minimize water infiltration
Variety of core systems depending on series approved and chosen. Laminated to both steel faces, enhancing the structural integrity of the whole door.

Honeycomb (Standard): 1" (25 mm) cell kraft honeycomb configuration that increases structural integrity while reducing overall weight
Polystyrene (optional): enhanced thermal performance
Polyurethane (optional): extreme thermal performance
Mineral Board (optional): rigid, temperature rise control
Steel Stiffened (optional): welded hat section

Full height lock side reinforcement channel (H Series only) ensures structural stability and locking hardware functionality under extreme pressure conditions
Full height, epoxy filled mechanical interlock edges provide structural support and stability the full height of the door edges

Edges may be filled (with tack welds around openings) or may be stitch welded and filled, which is proven to be more structurally sound than continuously welded edges which are commonly weaker because of heat buildup.

Beveled hinge and lock side edges have tighter tolerances and smaller gaps between door and frame face for a better visual appearance and ensuring easier operation and eliminating binding and sticking
Recessed Dezigner™ Glass Trim creates clean edge, flush with the door surface
Standard 14 gauge inverted top and bottom channels provide excellent door stability, and is able to be dressed with top and bottom caps
Approvals and specified industry standards
Approval listings can be found on certified label agency websites. Note that Steelcraft/Allegion approvals are listed under Schlage Lock Co.

Florida Building Code (FBC) – Select link, input FL # or select Product Manufacturer in dropdown menu as Allegion-Schlage Lock Company, LLC." > Search
Miami-Dade  – Select link, or go to Product Control Search. Input File # or select Applicant in dropdown menu as "Schlage Lock Company LLC > Go
Texas Department of Insurance (TDI) - See Steelcraft Hurricane Lookup Tool for correct Report Number on links below

TDI Impact – Select "Steelcraft Mfg. Co., Schlage Lock Co."
TDI Non-impact – Select "Steelcraft Mfg. Co., Schlage Lock Co."

Approved Series for Impact are typically Coastal to combat wind-borne debris, tested to HVHZ protocols (coastal Palm Beach/Dade). The following series are approved:

Approved Door series: H / HE (embossed) / TH (temperature rise)
Approved Frame series: F/MU, including approved storefront elevations
Tests include the following protocols

TAS 201: Missile impact tests -- Level D: 50 F/S 34 mph; Level E: 80 F/S 54.5 mph, risk category 4
TAS 202 (ASTM E1996 outside Florida HVHZ): Uniform static air pressure tests -- structural load
TAS 203 (ASTM E1886 outside Florida HVHZ): Cyclic wind pressure tests -- inward/outward pressure

Approved Series for Non-impact only are typically Inland outside of HVHZ areas to combat less severe hurricane winds/pressures. The following series are approved:

Approved Door series: L/B/T/SL/SZ/CE
Approved Frame series: F/MU
Tests include the following protocols

ANSI/ASTM E330 (also validated by TAS 202): Uniform static air pressure (non-impact)
Exceeds industry standards
Steelcraft is SDI Certified through regular audits to ensure manufacturing, performance and quality standard set by the Steel Door Institute

Overall door construction exceeds ANSI A250.8-2017(SDI-100), the standard set by SDI specifying sizes, design, materials, construction, finishing and performance for standard commercial steel doors and frames.
SDI Membership communicates compliance with industry standards including ANSI/SDI A250.8, ANSI/SDI A250.10 (Prime Paint), ANSI UL 10C (Fire), UL 1784 (Air Leakage), ANSI/SDI A250.4 (Physical endurance), ANSI/SDI A250.6 (Hardware reinforcing), ANSI/SDI A250.3 (Finish coatings), ASTM A653 (Galv; All Tornado products are Galvanealled), ANSI A115 (Locations) and SDI 117 (Tolerances).

Doors meet the broadest fire rating requirements; they are listed for installations requiring compliance to both neutral pressure testing (ASTM E152 and UL-10B) and positive pressure standards (UL-10C)
Factory-applied baked-on rust inhibiting primer meets ANSI A250.10-2011
Typical applications
Commercial buildings in hurricane zones near the Atlantic coast, and Gulf of Mexico, and inland.
Technical Data Guide
For more information on Hurricane Series tornado doors, download the Technical Data Manual
H Series (Pages 191-208), Non-Impact L/B/T/SL/SZ/CE (page 95), Frames F/MU (page 25), Lights (page 153), Fire rated products (page 277)