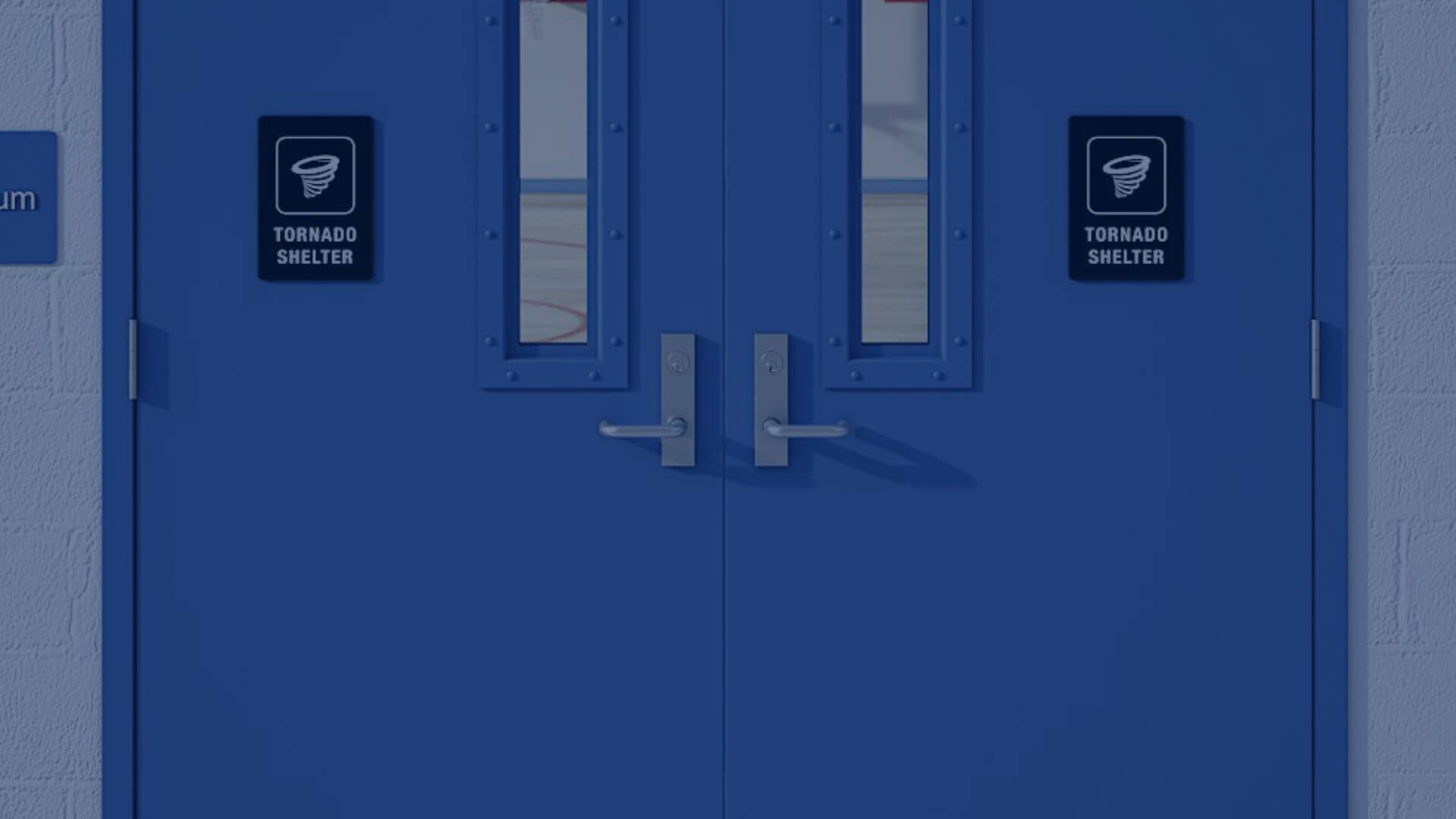 Paladin™ PW14 Series Tornado doors with or without patented tornado glass lights from Technical Glass Products (TGP) are assembly tested and approved showing tornado resistance to extreme effects of 250 mph winds for impact and wind load pressure, labeled by Intertek signifying compliance to ICC500 and FEMA 320/361.
PW doors are part of an assembly approval including FP Paladin frames and approved Allegion hardware. Unique engineered designs combined with the durability of superior corrosive resistant steel make Steelcraft PW14 Paladin™ Series Flush doors an excellent solution for added building protection from severe weather.

FEATURES AND BENEFITS
Strength, durability and ease of installation
Industry's only ICC500-2014/FEMA 320/361 approved fire rated tornado glass lights for hollow metal. Factory installed and ADA compliant, Steelcraft tornado glass lights provide natural light, aesthetic appeal, and added safety of visibility in and out of the shelter/class room. This patented light light kit can be added to any Steelcraft approved 3-sided opening.
Steel stiffened core construction welded and bonded to maximum duty 14 gauge A60 Galvannealled steel for superior strength and resistance to corrosion
Beveled hinge and lock side edges have tighter tolerances and smaller gaps between door and frame face for a better visual appearance and ensuring easier operation and eliminating binding and sticking
Die-mitered corner connections at the head and jamb. Standard corners insure attractive, tight and closed miters. Available KD or Welded.
Seamless full height, epoxy filled mechanical interlock edges provide structural support and stability the full height of the door
Heavy gauge reinforcing -- 12 gauge top and 14 gauge bottom inverted channels, 12 gauge full height lockside channel, 14 gauge closer reinforcements.
Patented universal hinge preparations allow for easy field conversion from standard weight .134" (3.3 mm) thick hinges to heavy weight .180" (4.7 mm) hinges.
Adjustable base anchors allow for installation adjustment when the floor is not level.
Approvals and Specified industry standards
Exceeds industry standards
Steelcraft is SDI Certified through regular audits to ensure manufacturing, performance and quality standards set by the Steel Door Institute

Overall door construction exceeds ANSI A250.8-2017 (SDI-100), the standard set by SDI specifying sizes, design, materials, construction, finishing and performance for standard commercial steel doors and frames
SDI Membership communicates compliance with industry standards including ANSI/SDI A250.8, ANSI/SDI A250.10 (Prime Paint), ANSI UL 10C (Fire), UL 1784 (Air Leakage), ANSI/SDI A250.4 (Physical endurance), ANSI/SDI A250.6 (Hardware reinforcing), ANSI/SDI A250.3 (Finish coatings), ASTM A653 (Galv; All Tornado products are Galvanealled), ANSI A115 (Locations) and SDI 117 (Tolerances)

Doors meet the broadest fire rating requirements; they are listed for installations requiring compliance to both neutral pressure testing (ASTM E152 and UL-10B) and positive pressure standards (UL-10C)
Factory-applied baked-on rust inhibiting primer meets ANSI A250.10-2011
Typical applications
Commercial buildings in tornado alley (FEMA 361) as well as residential shelters (FEMA 320). Most common are new school gymnasiums constructed as ICC500 compliant tornado shelters for K-12 and higher education. Typical hardware includes the Schlage LM9300 Levers (rods factory installed) and Von Duprin WS98/9927 or -57 panic exits.
Technical Data Guide
For more information on Paladin™  PW Series tornado doors, download the Steelcraft Technical Data Manual

PW Series (Pages 210-221): Includes lights (p 164), fire ratings (p 227)
SDI CERTIFIED INFORMATION
Quality is everything when it comes to steel doors and frames. They are one of the few components of buildings that people are constantly in contact with — and often provide the first impression of your building.
The Steel Door Institute has developed a new industry certification — SDI Certified. The manufacturers with this certification are regularly audited to ensure they meet our rigorous manufacturing, performance and quality standards. Design professionals can now specify SDI Certified and know the manufacturer of their doors and frames will meet the highest standards in the industry.
Many of the most respected steel door and frame manufacturers are now SDI Certified. They produce standard, custom, and specialty products distributed in 50 states and around the world.
For more information, view the SDI website.